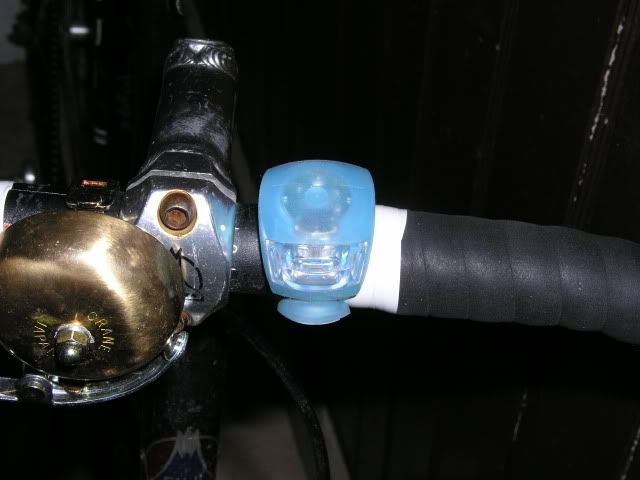 Despite my initial skepticism, these lights are the real deal. They: are small (2 fit in a coat pocket without bulging), attach easily to any sized handlebars in 2 seconds, stay in place without rotating, have decent visibility at a distance, detach easily either with gloved hands or one handed and have switches that do not easily get switched on by mistake in your bag (I have wasted too many batteries this way).
While the Beetle is about average in performance when attached to the bike, the small size and ease of attachment and removal set the Beetle apart from its competitors. This light easily attaches to your funny shaped OS carbon bars and then in seconds,
can be switched to your 26.0 mm fixy for a ride to the store after returning from the Womp. Mountain bars, seatposts, seatstays, courier bags, headtube, helmet you can literally attach this light anywhere.
Better yet, you can easily remove the light from your bike without leaving behind an ugly bracket.
If you are running into the store, you won't think twice about taking the light in with you. If you use them on your race bike, you won't be forced to use tools to remove brackets or race with extra garbage on your bike (think Womp).
The Beetle creates a bright flash in a small package.
As an advocate of always using lights at night, I find the Beetle be visible enough that I feel safe with one in front and one in back.
Furthermore, it passes muster with the Cambridge Bicycle police, who have been citing cyclists in and around Central Square recently. And it is is not much bigger than the minimalist Knog Frog or hipster fame.
I many different sets of lights.
I keep stashes of them around, extra blinky lights in my most frequently used bags and a catchall by the door.
The convenience of the Beetle have won my over. All of my other lights have sat in the catchall since we got a stash of these. Included in that catchall are other Knog lights (I am not enamored with the whole product line), this light has won me over.